Dear friends,
We need your help!
Our traffic increased to 4,000,000 hits from about 30,000 unique visitors daily. So far we have used multiple shared accounts on DailyRazor hosting provider to handle the traffic. Last night unexpectedly DailyRazor shut off most of our accounts explaining it by increased server load. For now we involved all our reserves, but rest of our servers are hardly handle the traffic. So it's time to move our hosting to dedicated servers. We need around $6,000 to build minimal configuration to handle current traffic and capable for later upgrades.
But we don't want just ask for donation, instead we would like to offer something valuable (or at least visible) in return for your support.
We launched new service called "Inhabited Sky" (
http://my.sky-map.org
). Basically it is a page where we appreciate our contributors. By donating some money you will get a star where you can put some personal (or business) information, link it to your homepage.
Also you can use that star to design a gift with nice astronomical image and personalized message. See services page for details:
http://my.sky-map.org/adopt_services.jsp?iii=mug
Here's an example of personalized gift: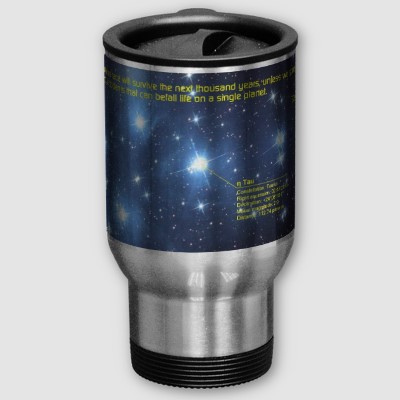 We will post regular updates on the donation project progress.
Thank you very much for your support,
The SKY-MAP team